Let's Smile : Learning English and Smiling together
Let's Smile is a seven-level primary English course for young EFL students. The course has lots of creative and enjoyable features like stories, songs, and games to support and motivate students. Language targets are constantly linked and recycled to boost students' confidence. With Let's Smile, young students are inspired to smile and succeed together in today's world.
Sample reviews are available for schools and teachers. Please feel free to contact us to have closer look at Let's Smile.
Learning English is an adventure with this 7-level series. Come learn and smile with us !
Fun animated stories featuring friendly characters
Lively songs and chants
Fun and communicative games
Twelve easy CLIL lessons
Six World Link lessons linked to unit topics
Practical English for everyday student life
Content to motivate students at all levels
Systematic recycling of language targets
New YLE test prep package
Extensive resources for teachers
Content Specifications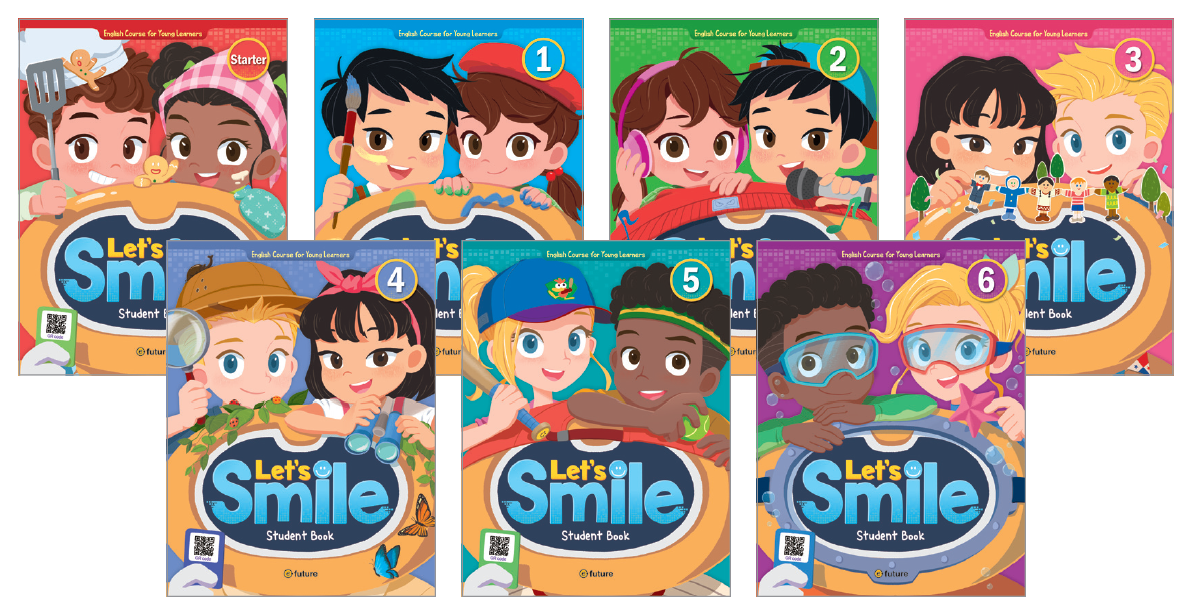 Each book includes 12 regular units with 3 lessons per unit + 6 World Link (CLIL) lessons.
Book Starter  equivalent to YLE Starters, Pre-A1
Book 1 equivalent to YLE Starters, Pre-A1
Book 2 equivalent to YLE Starters, Pre-A1
Book 3 equivalent to YLE Movers, A1
Book 4 equivalent to YLE Movers, A1
Book 5 equivalent to YLE Flyers, A2
Book 6 equivalent to YLE Flyers, A2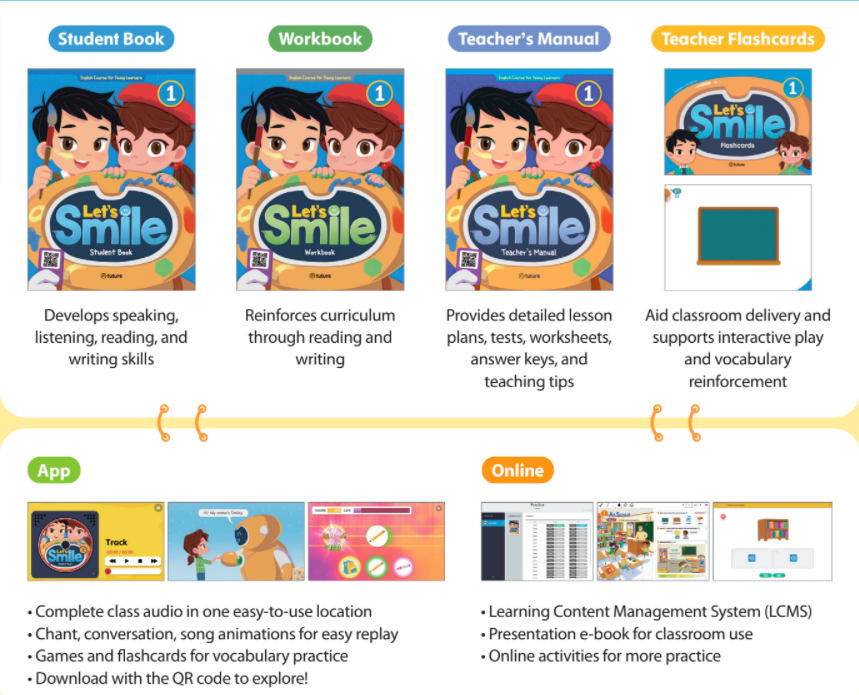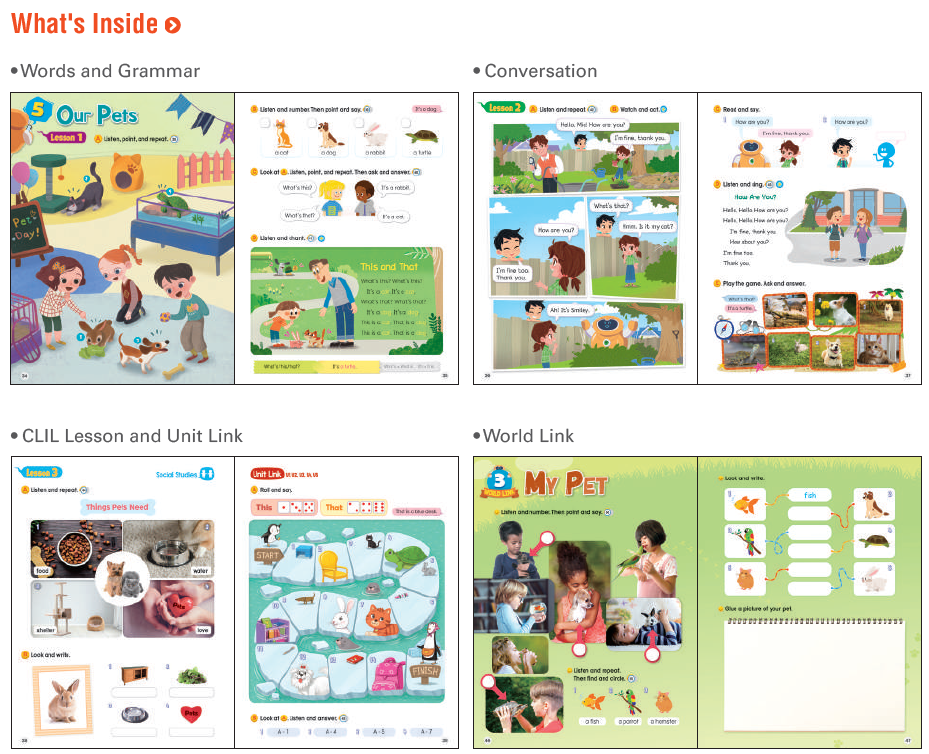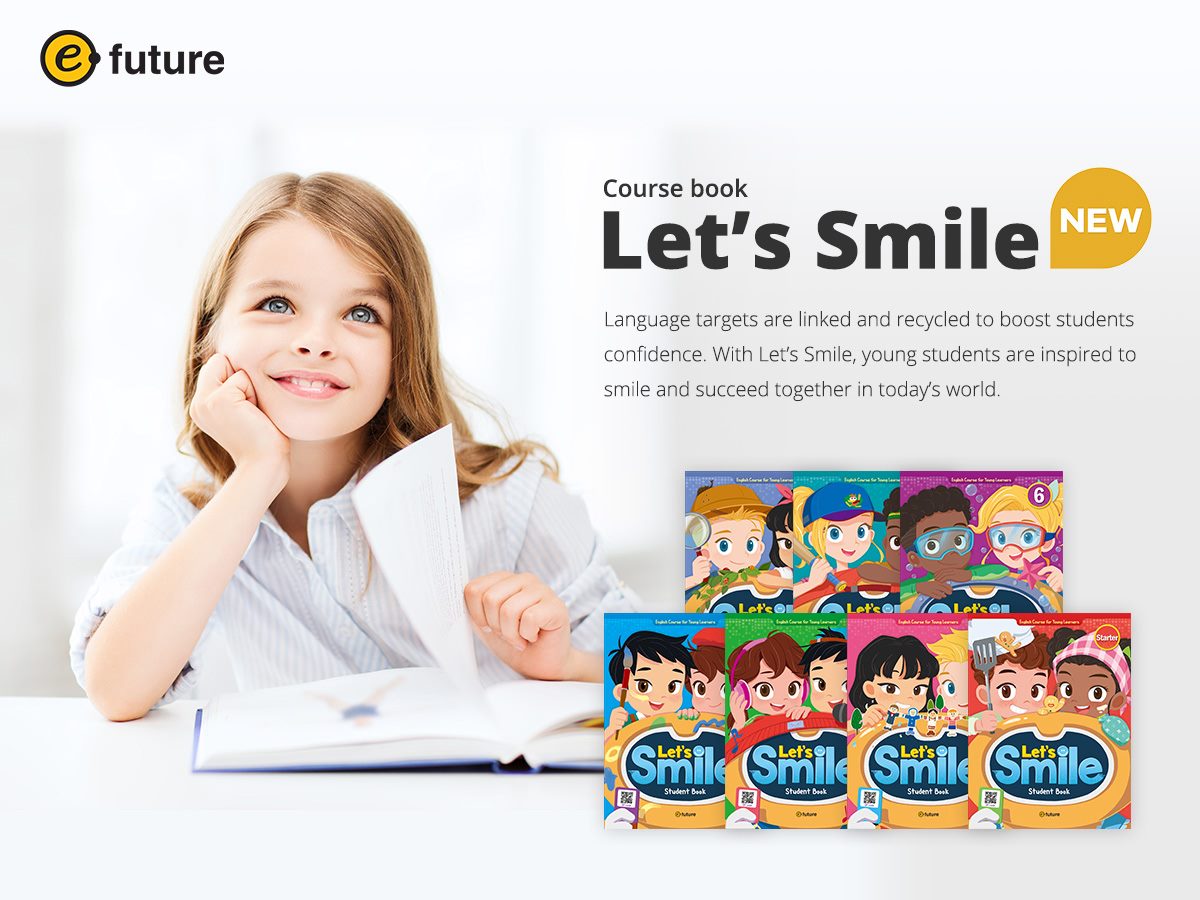 Preview
Let's Smile in details with Alana
ISBN List for your order
9791189906993 Let's Smile Starter Student Book
9791191150063 Let's Smile Starter Workbook
9791191150131 Let's Smile Starter Teacher's Manual
9791191150452 Let's Smile Starter Flashcards
---
9791191150001 Let's Smile 1 Student Book
9791191150070 Let's Smile 1 Workbook
9791191150148 Let's Smile 1 Teacher's Manual
9791191150469 Let's Smile 1 Flashcards
---
9791191150018 Let's Smile 2 Student Book
9791191150087 Let's Smile 2 Workbook
9791191150155 Let's Smile 2 Teacher's Manual
9791191150476 Let's Smile 2 Flashcards
---
9791191150025 Let's Smile 3 Student Book
9791191150094 Let's Smile 3 Workbook
9791191150162 Let's Smile 3 Teacher's Manual
9791191150483 Let's Smile 3 Flashcards
9791191150032 Let's Smile 4 Student Book
9791191150100 Let's Smile 4 Workbook
9791191150179 Let's Smile 4 Teacher's Manual
9791191150490 Let's Smile 4 Flashcards
---
9791191150049 Let's Smile 5 Student Book
9791191150117 Let's Smile 5 Workbook
9791191150186 Let's Smile 5 Teacher's Manual
9791191150506 Let's Smile 5 Flashcards
---
9791191150056 Let's Smile 6 Student Book
9791191150124 Let's Smile 6 Workbook
9791191150193 Let's Smile 6 Teacher's Manual
9791191150513 Let's Smile 6 Flashcards
Inquiry, quotation request.
Please feel free to call or  email Mr. Thảo. We shall get back to you shortly.