Little Hands : a 4-level coursebook series for kindergarten
Little Hands is a fun and easy four-level course for very young EFL learners entering the English classroom for the first time. The easy-to-use series nurtures creativity through art, music, and play while promoting communication and motor skills. The series also features an alphabet book and phonics books to build a foundation for early literacy. With Little Hands, children will enjoy learning English and become confident learners in the 21st century.
Besides, Little Hands is a flexible course designed to meet the needs of individual teachers and school schedules. Each level is intended to be taught over the course of one school year. Children study one unit per month, and each lesson is designed to take 20-30 minutes. There are extra activities and a wealth of resources provided in the Teacher's Manual and Teacher's E-Kit, so teachers can easily expand their lessons if needed. Little Hands has teachers covered!
Sample review are available for schools and teachers. Please feel free to contact us to have closer look at Little Hands.
Children and teachers will love Little Hands with nice features
Simple vocabulary and useful expressions
Lovable characters and engaging stories
Catchy songs and chants
Vibrant illustrations and art projects
Age-appropriate CLIL content
Alphabet and phonics support
Fun and easy introduction to basic English
Language recycling and linking
Social and emotional skills development
Teachers' e-kit (itool) is available online and offline
Plenty of supporting materials and activities
Free mobile app on both iOS and Android (on the appstore, search for "Little Hands")
Content Specifications
Nursery Book : 8 regular units
Book 1 : 8 regular units + 2 review units
Book 2 : 8 regular units + 2 review units
Book 3 : 8 regular units + 2 review units
Preview
What is Little Hands teacher's e-kit ?
ISBN List for your order
9791189906191 Little Hands Nursery Student Book
9791189906238 Little Hands ABC Book
9791189906719 Little Hands Nursery Teahers Resource Pack
---
9791189906092 Little Hands 1 Student Book
9791189906207 Little Hands 1 Activity Book
9791189906726  Little Hands 1 Teachers Resource Pack
9791189906108 Little Hands 2 Student Book
9791189906214 Little Hands 2 Activity Book
9791189906733  Little Hands 2 Teachers Resource pack
---
9791189906115 Little Hands 3 Student Book
9791189906221 Little Hands 3 Activity Book
9791189906740  Little Hands 3 Teachers Resource pack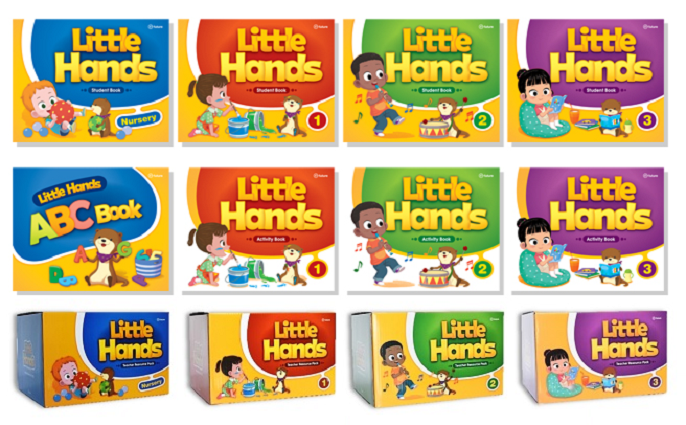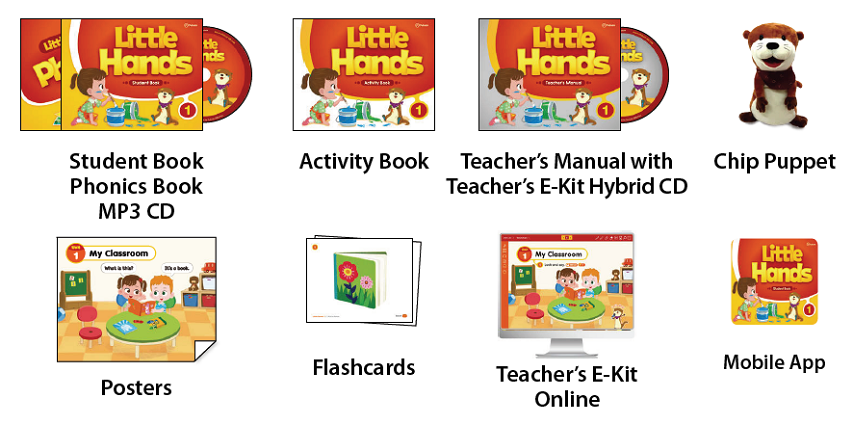 Inquiry, quotation request.
Please feel free to call or  email Mr. Thảo. We shall get back to you shortly.