Get to know School Phonics
School Phonics : a fascinating 4-level phonics series for EFL young learners
School Phonics is a four-level phonics series designed to make phonics both easy for teachers to teach and enjoyable for EFL students to learn. The systematic curriculum works to establish a solid foundation of phonics skills for students, providing them effective tools for basic reading and writing. School Phonics also takes students on a spectacular journey through a series of stories graded specifically for their level, helping them to further develop their knowledge of phonics and become independent readers in the process.
Sample review are available for schools and teachers. Please feel free to contact us to have closer look at School Phonics.
School Phonics is designed for EFL young learners with easy-to-follow lessons
Carefully designed syllabus
Easy-to-follow lesson plans
Vibrant illustrations and photos
Phonics story for each unit
Detachable student flashcards
Sticker for tactile learning
Curriculum-correlated readers with lively and descriptive illustrations
Fun and imaginative stories with target sounds and check-up activities for phonics and comprehension
Workbook with exercises to strengthen learned phonics skills
Hybrid CD with animated content and enjoyable games
Plenty of supporting materials and activities
Entertaining games for review
Catchy phonics chant
Final tests to check student's progress
Free mobile app on both iOS and Android (on the appstore, search for "School Phonics")
Interactive ebook is a powerful presentation tool for your class
Content Specifications

Book 1 : Single Letter Sounds (a, b, c … x ,y ,z)
Book 2 : Short Vowels (e, u, o, a, i)
Book 3 : 

Long Vowels (a_e, i_e, o_e, u_e)
Double Letter Consonants

Consonant blends : bl, cl, gl, dr, fr, pr, tr, sm, sn, st, sw, nk
Consonant digraphs : ng, ch, sh, th, ph, wh
Book 4 : Double Letter Vowels

Vowel digraphs : ee, ea, ai ay, oa, ow (bowl), oo (book), oo (goose), ie (chief)
Vowel diphthongs : oi, oy, ou, ow (cow), ie (pie)
R-controlled vowels : ar, er, ir, or, ur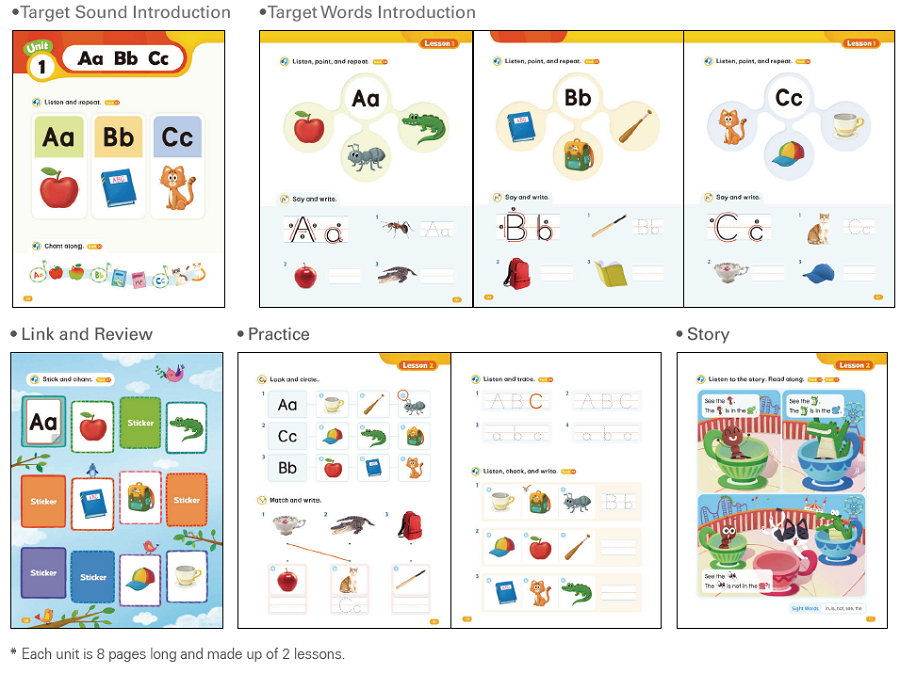 Preview
ISBN List for your order
9791156809517 School Phonics 1 – Student Book
9791156809555 School Phonics 1 – Workbook
9791156809593 School Phonics 1 – Teacher Book
---
9791156809524 School Phonics 2 – Student Book
9791156809562 School Phonics 2 – Workbook
9791156809609 School Phonics 2 – Teacher Book
9791156809531 School Phonics 3 – Student Book
9791156809579 School Phonics 3 – Workbook
9791156809616 School Phonics 3 – Teacher Book
---
9791156809548 School Phonics 4 – Student Book
9791156809586 School Phonics 4 – Workbook
9791156809623 School Phonics 4 – Teacher Book
Inquiry, quotation request.
Please feel free to call or  email Mr. Thảo. We shall get back to you shortly.